12 Days of Christmas ~ Day #5
Wow the time is ticking down and there isn't too long until the big day gets here.
Back in November Amy over at One Artsy Mama asked if anyone wanted to do an ornament exchange. Well for a girl who loves Christmas and anything that comes with it I said yes.
So I came up with these glass ornament balls filled with feathers and topped off with a hand stamped hope washer.
Earlier this year my hubby had acquired an alphabet letter stamp set at an auction for me and this project was my times getting some good use out of it.
Thank you to Amy for organizing this ornament exchange it has been fun to do and to see what others have come up with. If you want to check out all the other projects be sure to pop over to One Artsy Mama.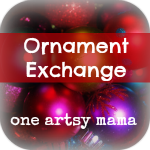 Come check out our other 12 Days of Christmas Posts
1. Snowman Family
2. Christmas Morning Quiche
3. Believe Rustic Sign
4.Gingerbread Houses